Cartagena, Colombia
October 7-11, 2019
In the past, Colombia had an undesirable reputation but now I'm glad to say that Cartagena is safe and economical city.  This jewel is rich with hospitality and African culture. Even Will Smith saw the beauty in this city, because it was one of the locations were they shot the film, Gemini.   I was first enticed to go to Colombia when I saw an amazing deal on Gate1 Travel for $500 (including flight & hotel).  I immediately got my crew together and booked my vacation.  Cartagena is located on Colombia's Caribbean Coast so it is known for its great weather and delicious seafood.  During my short stay, I soaked up everything Cartagena had to offer, which only triggered my need to visit other parts of Colombia.  So let's get ready to learn, see and do!
LEARN:
Experience the Real Cartagena Palenque Tour:  After doing extensive by utilizing the suggestions from travel groups such as the Black Travel Movement, this was one of the main reasons I decided to come to Colombia.  As I stated throughout my other travel guides, I am always looking to explore African culture and foodways throughout the world.  This three hour tour takes you 60 minutes out of the city of Cartagena to UNESCO World Heritage site, Palenque de San Basilio. Founded by escaped slaves, this town is not run by a government appointee, but a group of elders who have volunteered to preserve the traditions of their African ancestors.  During the tour we learned about the tradition of dance by visiting the Palenque Drum and Dance School. Let me tell, the teenagers who were dancing, rapping and playing the drums are some of the most talented individuals that I have seen in a long time. Next on the tour, we stopped by one of the globally recognized cook's featured in the 2014 UNESCO award winning cookbook, Kumina ri Palenge pa to paraje Cocina Palenquera para el mundo. While visiting the cook's house she offered us samples of her Yucca cake and Maza. Both were uniquely delicious and ignited a taste that I had never experienced before. Overall, I learned about a new culture and saw the similarities in my own.
Munch Tip:  Mr. Rocha's custom designed t-shirts ($20) are a great souvenir to take home and support a worthy cause.  100% of the profits go to his non-profit which is dedicated to educating and providing extra curricular activities for the children who live in the Palenque.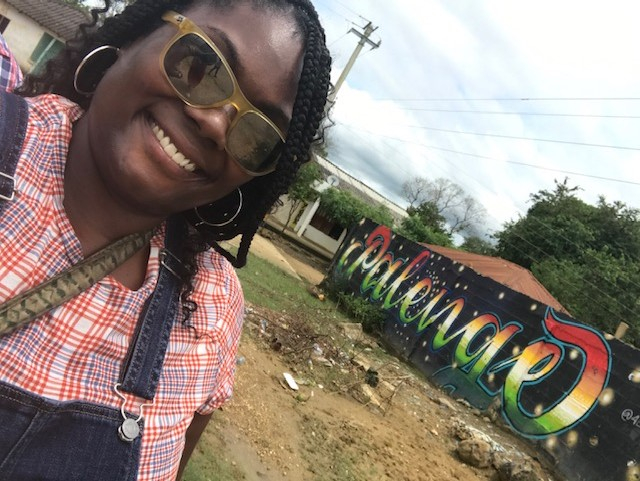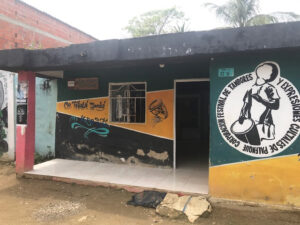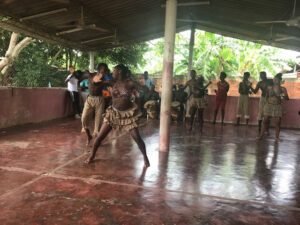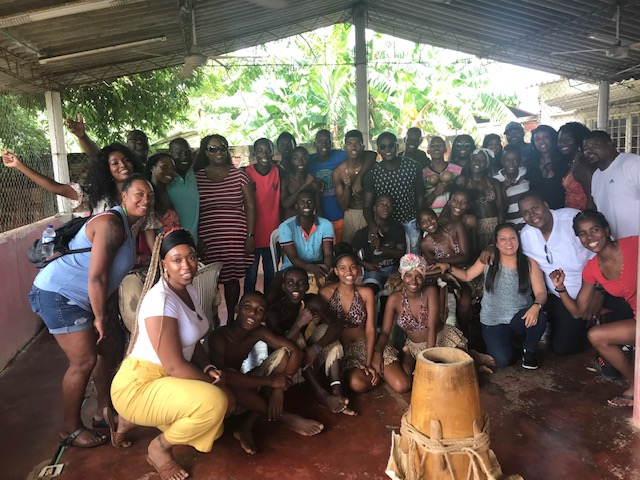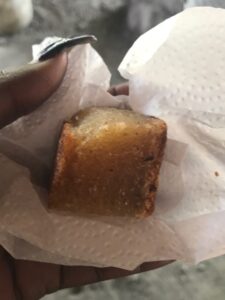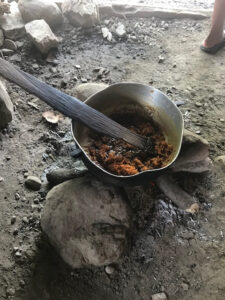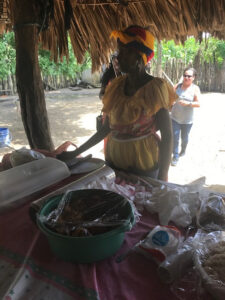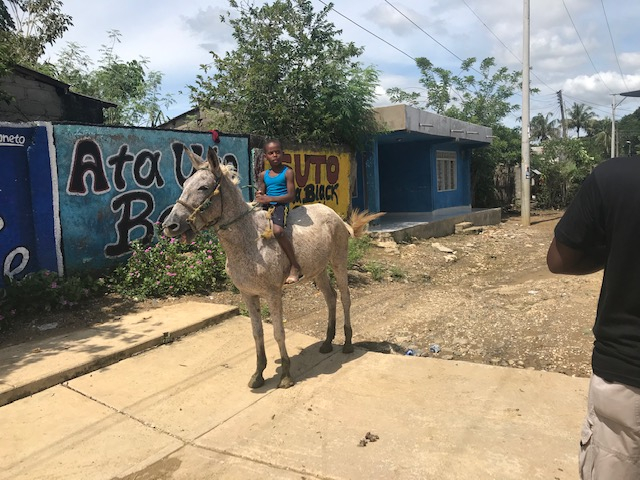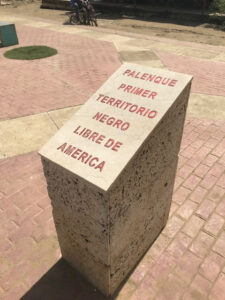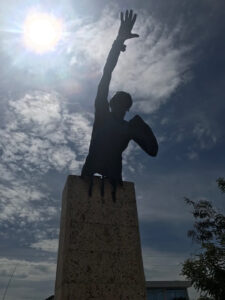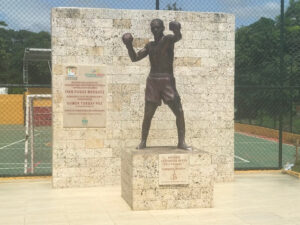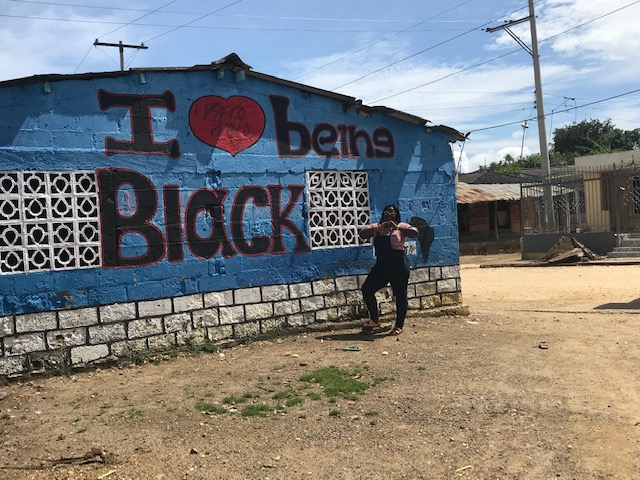 SEE:
Experience the Real Cartagena Mud Volcano Tour:  This was one of the highly recommended tours to do while in Cartagena. When I first arrived, I had my reservations while making the steep walk up to the opening of the natural mud oasis.  But once I ascended into the mud pit I totally relaxed and let the mud take over. If your interested, massages are offered to give you the full experience. When your done with soaking in the mud you have to walk down another set of steep stairs to a river where a woman will help you wash of the mud.  Make sure to tell her you don't want to be bathed naked or else you will definitely have a once in a lifetime experience.
Munch Tip:  All the services you receive require a tip to be paid.  So if you decide to have someone take your picture, hold your towel, give you a massage and wash you down the total for all these services would equate to 40,000 Colombian Pesos.  Make sure to bring Pesos in small denominations that way you can tip each person separately.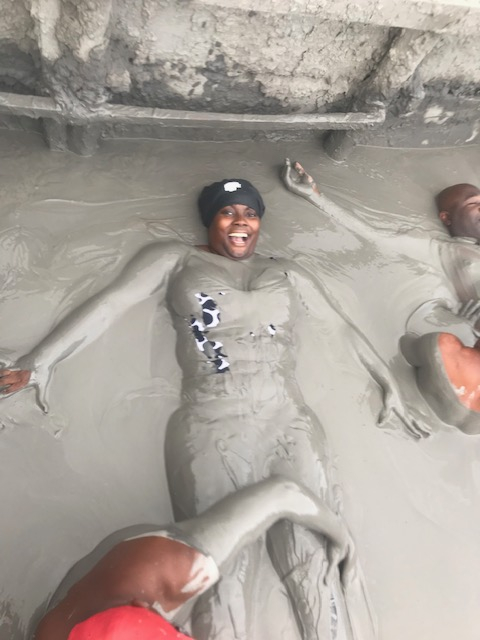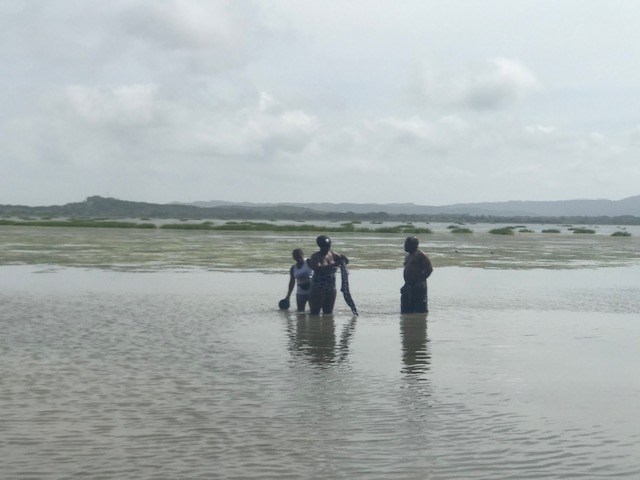 Experience The Real Cartagena Pink Sea Tour:  A short drive from the mud volcano is the pink sea.  The reasoning for the color is the mixing of the minerals and salt that are present in the water.  Owned and operated by the locals this brings extra money into their community. It's a short walk to the main attraction, but once you're there you can take as many instagramable pictures as you want. At the end of your photo shoot, a lady will wash the salt off your feet and shoes.  Don't forget to leave her a tip because this service is not free.
Munch Tip:  If you have to use the restroom, ask your tour guide to take you to a gas station before entering the Pink Sea.  There is only one portable potty available once you reach your destination.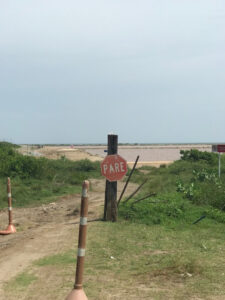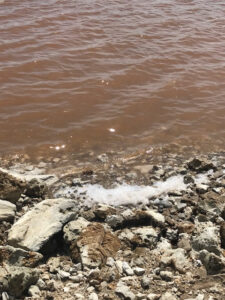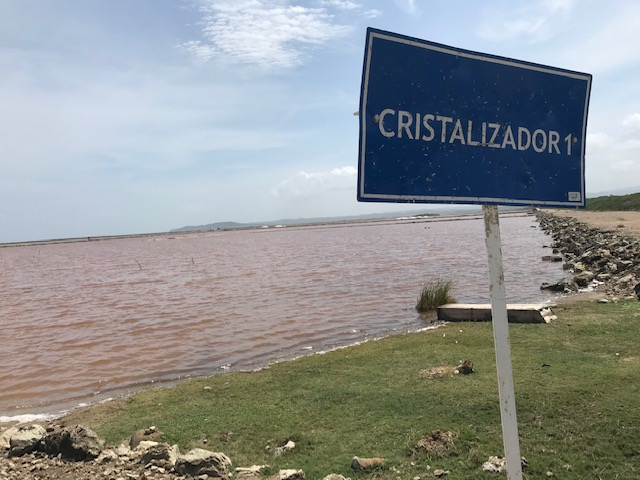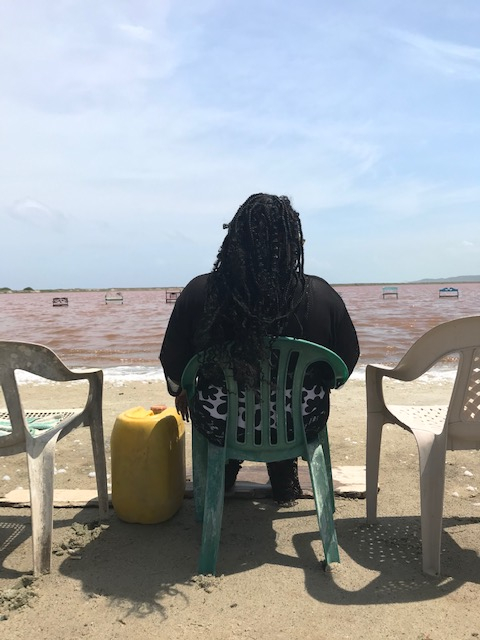 City-Seeing Hop on Hop Off Tour Bus:  One of the best ways to get to know a city on a short amount of time is to buy a ticket for the hop on hop off tour.  The bus in Cartagena takes you around to 14 different stops around the city. You will be able to see the most wealthiest neighborhoods to the heart of the tourist area.  The cost for a two day ticket cost 45,000 Colombian Pesos.
Munch Tip:  On your first day take a full tour of the city so you can hear the historical narrative of each stop.  On your second day make a valid plan to stop at the locations that are most interesting to you.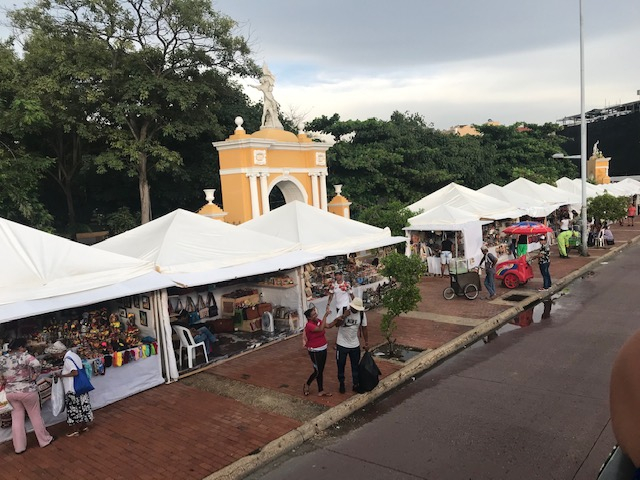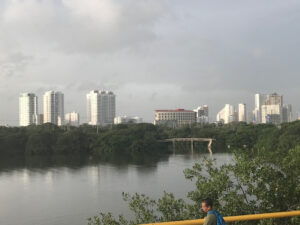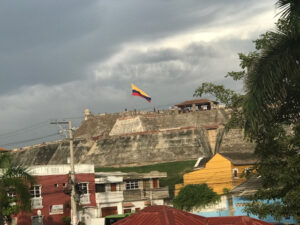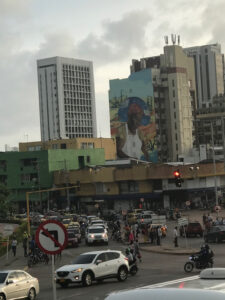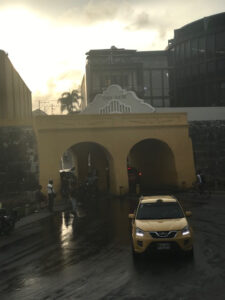 DO:
Rumba Chiva Party Bus:  Within a few hours of touchdown in Colombia, I headed out one of the chiva party buses that Cartagena is known for.  These fun mobiles are designed to make you feel the vibe of the city through the music and the night life. We zoomed around the city and stopped at the first of two locations that night.  It was a small park that had vendors and live performances. There was a dancing group from Venezuela that played live music and showed everybody how to dance Samba. Also, be prepared to be approached by several people selling their wares.  Just say no gracias and they will walk away. While on the party bus they supply you with drinks made with the local rum. Watch out, it has a kick. The second stop on the tour drops you off at a local nightclub where the DJ plays a mix of reggae, reggaeton and salsa music.  This is definitely a fun time for all. It pays to read reviews on TripAdvisor, because I ended up paying only $20 for this excursion compared to the $35 price you would pay if you paid onsite.
Munch Tip:  If you don't stay at a hotel within the city limits the party bus will not be able to pick you up or drop you off.  You will need to take a taxi to/from the pickup location which could cost you around $9 or 20,000 Colombian Pesos.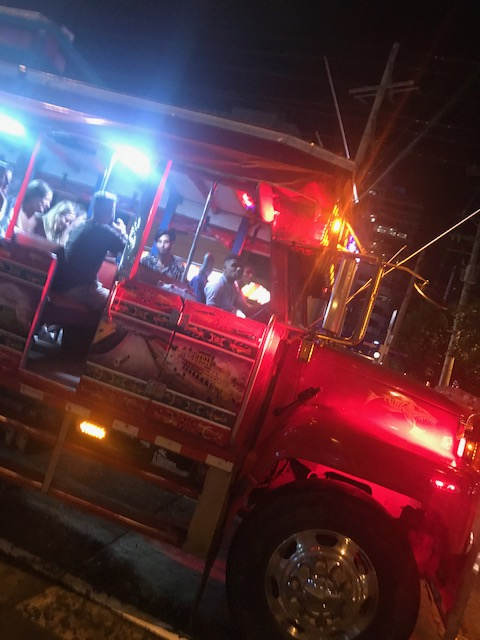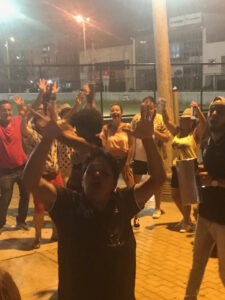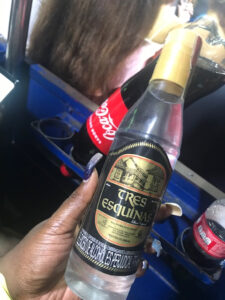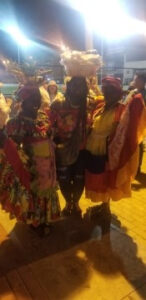 Broaster Chicken for Dams:  I dropped into this establishment for a quick bite to eat before boarding the Chiva party bus fun.  You can order almost anything from chicken to seafood but since the restaurant is known for chicken, you have to order it.  I ordered the 6 wing plate which only ended up costing me 12,500 Colombian Pesos or roughly around $3.50! The chicken wings came out fresh and hot with a side of fries. This was the best first meal to have in Colombia.
Munch Tip:  Take the plastic gloves to eat your chicken and fit in to look like the locals.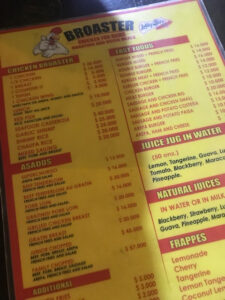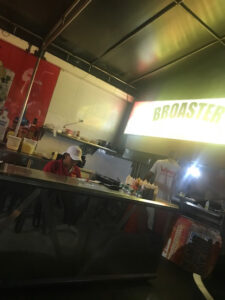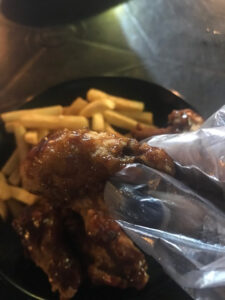 La Perla Negra Restaurant:  Owned and operated by an Afro-Latina, this restaurant and hotel are located in a small village in La Boquille.  It sits right on the beach which allows for a perfect breeze and beautiful view of the ocean. My meal consisted of fried fish, tostadas and coconut rice.  To date the coconut rice was some of the best rice that I had ever eaten, it was light, sweet and fragrant aroma.
Munch Tip:   Make sure to eat upstairs.  This is the best place to take in the beautiful view of the ocean while eating your meal.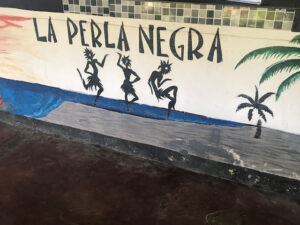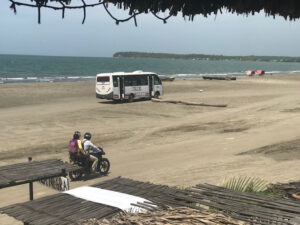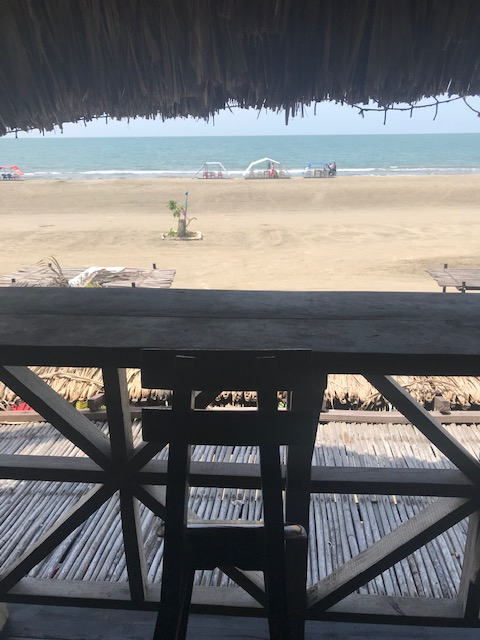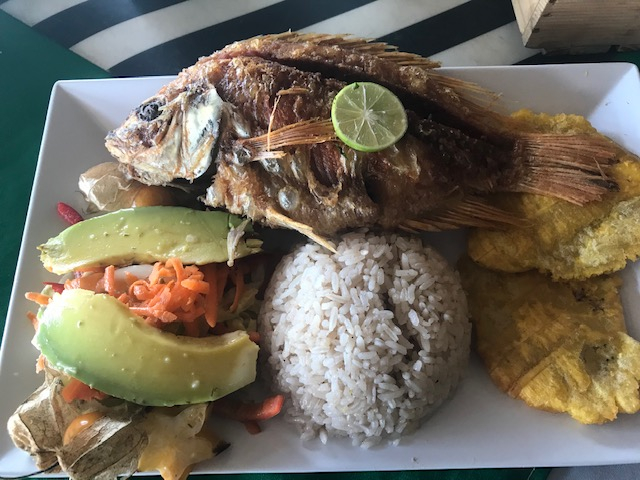 Varadero Restaurant:  A little piece of Cuba in Colombia.  This restaurant transports you to the main street of Havana, Cuba.  The decorations had life size pictures of musicians and one of Cuba's most popular exports, Havana Club Rum.  I ordered the potent mojito that came with a piece of sugar cane for chewing. Since Cartagena is known for their ceviche, I ordered the mixed seafood ceviche made in an avocado sauce.  Instead of a lime and lemon based sauce, it was mayonnaise based which made the dish more filling. This was different than any kind of ceviche that I have ever had. My main course consisted of lobster spaghetti.  The plating was creative and completely covered every circumference of the plate. Even though I was stuffed to the brim after the first two dishes, I couldn't leave without trying the Queso Flan. Again, this was not like any other flan that I had ever tasted.  The dessert came out in a cheesecake form and had a berry sauce on top. There was no jiggly movement to the flan, however it was very rich in flavor.
Munch Tip:  There is a live band that plays music on a regular basis.  Ask to be seated at a table that is close to the stage. That way you can be immersed in the rhythms of the music.