Venezia, Italia
May 26-29, 2019
Bourjourno Italia! It has been over 20 years since I have laid foot in this beautiful country.  As a child, our yearly school trip was to go to Venezia and learn about the culture and history of the city.  To be honest, since I had gone there so many times in the past it became one of my least favorite cities to visit. Now as an adult I was excited to see Venezia from a different perspective and see how much the city had changed over the years.  Get ready to learn, see and do the Italian way.
LEARN:
Brussel Airlines & Belgium Airport:  This was the first time I flown on this airline and I found it to be average.  The customer service was exceptional compared to most American airlines. However, the seats on our first flight from DC to Belgium had us sitting in cramped quarters were the seats were more suited to accommodate two children rather than two adults.  The entertainment on board had some interesting movies that kept me occupied for the six hour flight.   Once we arrived to the Belgium airport it was very organized and easy to get around. But we almost missed our flight due to a gate change.  There were plenty of eateries around the airport and I ended up settling to eat at Panos. This is a great economical eatery that will hold you over to your final destination.  The specialty of Panos is pastries and sandwiches.  It's not everyday that you get to order a steak tartar sandwich for such a low price (5 Euros), so I had to buy it.
Munch Tip:  Make a point to watch the Brussels Airport video "How to Connect at Brussels Airport" before you land at the airport.  It makes it a lot easier to get around if you have a short connection between flights.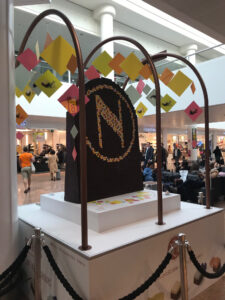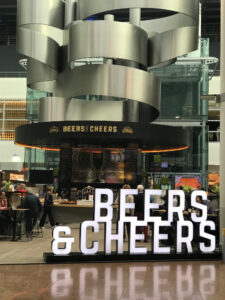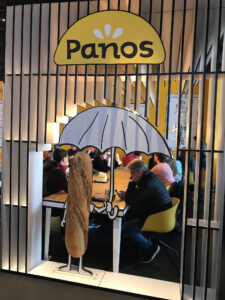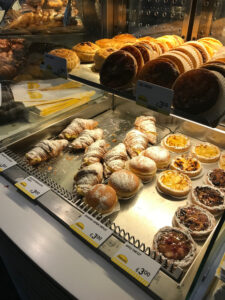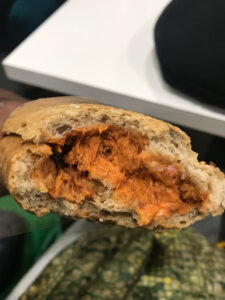 Walking Tour of Venezia:  No tour of Venezia would be complete without walking through the streets and mixing in with the locals.  Walk through the campos and view the many churches and bridges that make the city unique. See if you can find the bridge of sighs and take a picture.
Munch Tip: Bring an empty water bottle with you to fill up with one of the many free water fountains around the city.  Don't worry the water is safe to drink.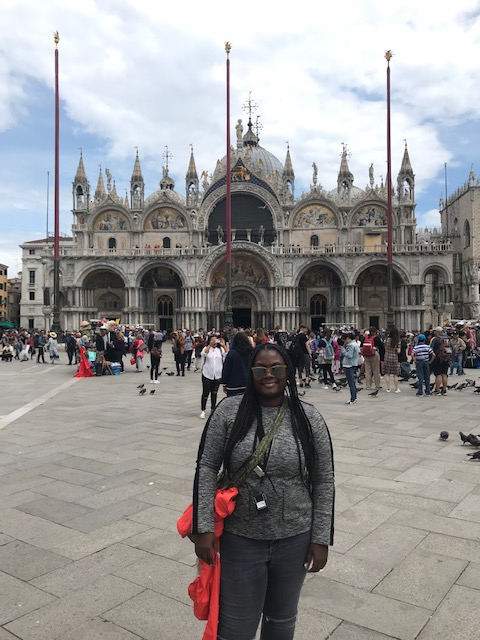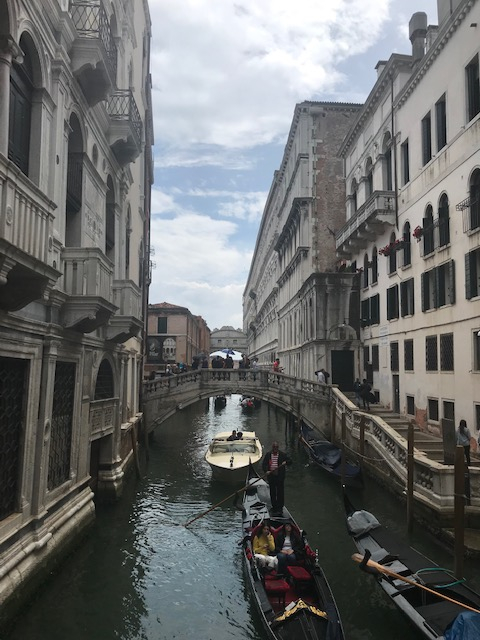 SEE:
Murano, Italy:  The island of the artisanal glass.  If there is one souvenir you should buy while in Venezia, it is a one of a kind, handcrafted piece of glass that can only be found on Murano island. During my visit, our Gate1 Travel tour guide, Riccardo took us to the Industrial Vetri Artist Ferro-Lazzanni.  This factory is the oldest glass blowing business on the island.  Glass blowers passed down their artistic skills through their family line from generation to generation.  Riccardo (tour guide) explained that glass blowing is a dying art that is trying to be revived. The tour of the factory includes a demonstration by a master glass blower creating a unique piece.  At the end of the demonstration, the tour continues upstairs to view the showroom and the opportunity to purchase one or several pieces of art to take home.
Munch Tip:  See something you like in the showroom.  Negotiate! The cost of the glass is pretty pricey and you want to walk away with the best deal possible.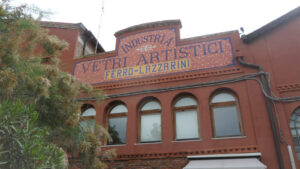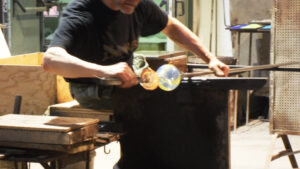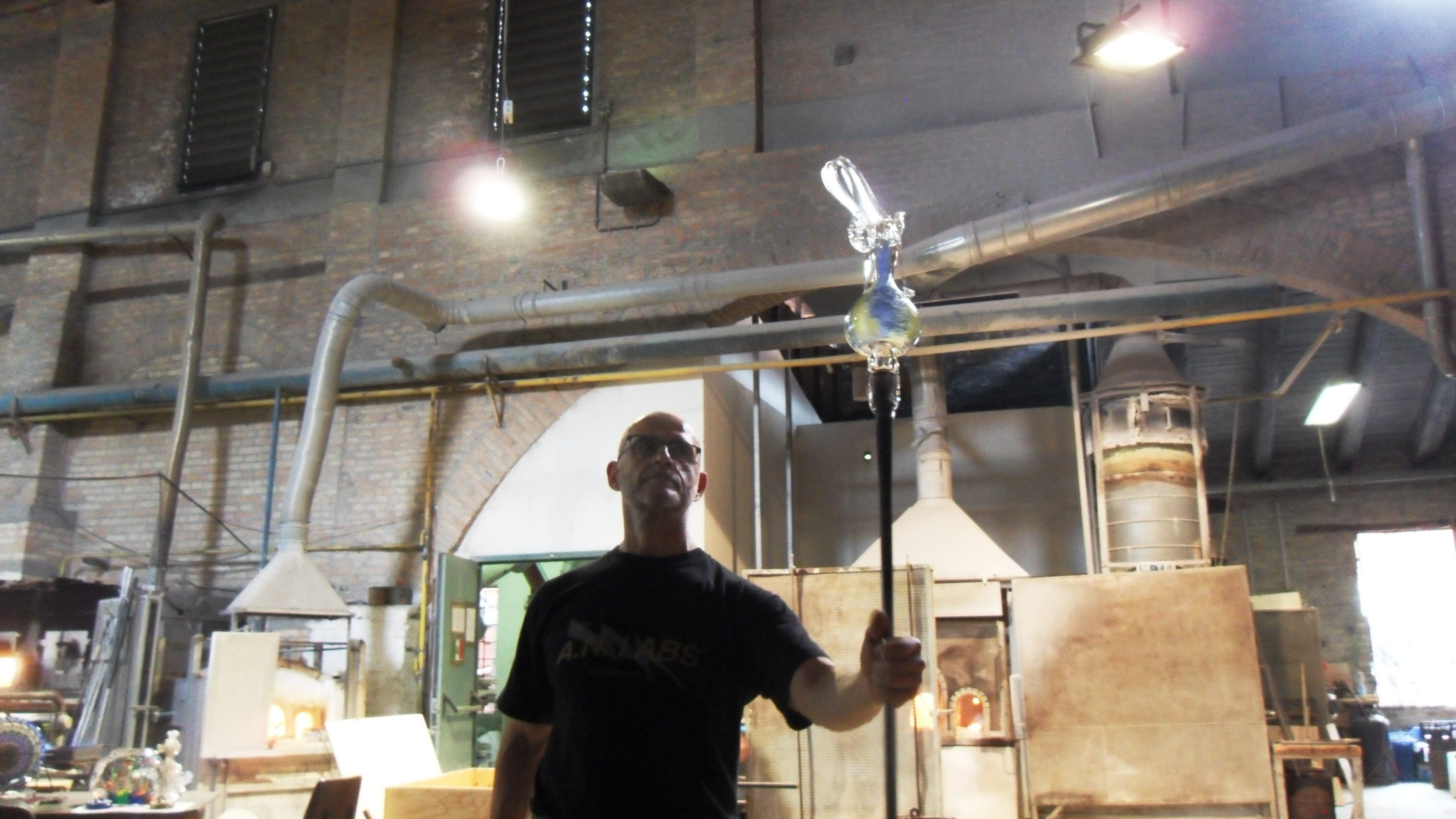 Fondaco Dei Tedeschi:  This building was refurbished by the owner of Benetton into a high end department store.  Filled with major brands such as Gucci and Stella McCartney it offers you the opportunity to shop till you drop.  Remember if you spend over 150 Euros in a single purchase you are eligible for a tax refund at the end of your trip.  Make sure to ask for the required paperwork before you complete your transaction at the register. Once you get tired from shopping there is a cafe on the main floor were you can order anything from a glass of vino to a full meal.
Munch Tip:  Head to the rooftop for the most spectacular view of the Rialto bridge.  It is free to go to the viewing deck, but you must register at one of the kiosks that is by the elevator on the top floor or online.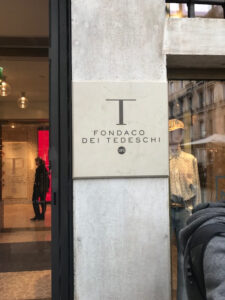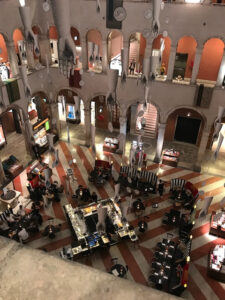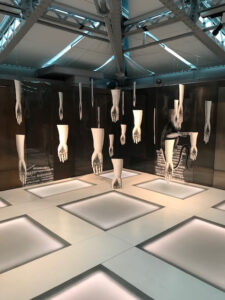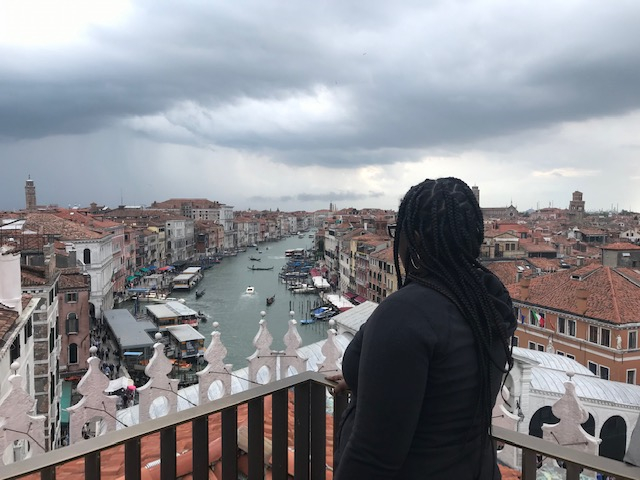 DO:
Ristorante "La Terrazza":  As part of our Gate1 Travel tour, we had the opportunity to partake in a Prix Fixe menu. This was my first authentic Italian meal since I left Italy in 1996.  Unfortunately, the food didn't live up to my memories. My menu consisted of the starter of ricotta cheese flan with radicchio and zucchini cream.  It was followed by the first course which was the classic lasagna with meat ragout, and the main course of salmon in a pistachio crust served with baked potatoes.  I finished the meal with tiramisu.
Munch Tip:  If you choose to try out this restaurant, just go for and dessert and cappuccino.  Save your money for a better restaurant.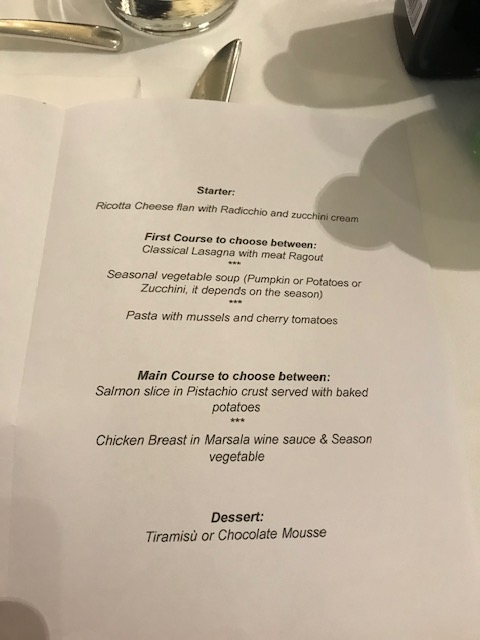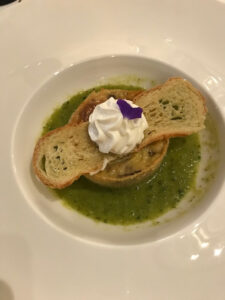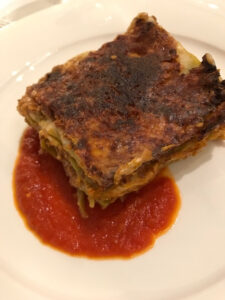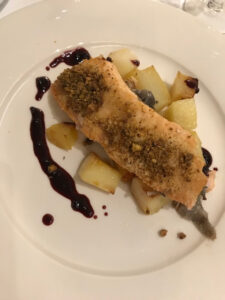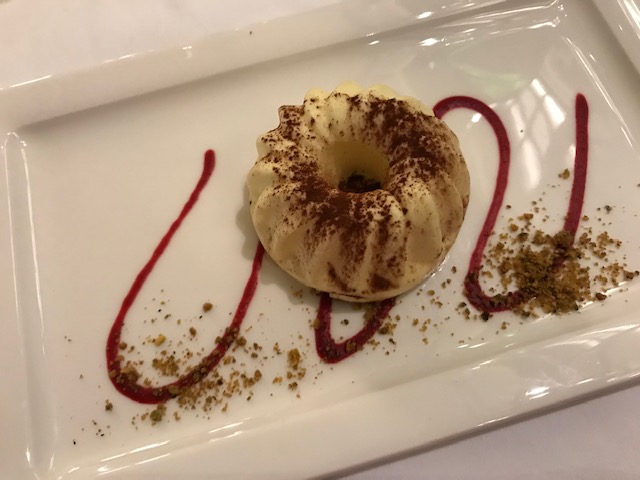 Osteria al Ponte:  Baccaro's are a great way to get that extra glass of vino before continuing on your next adventure in the city for a reasonable price.  Venezia is populated with many of these intimate neighborhood outposts. The Baccaro's offer small bites of delicious appetizers that are mostly served on toast.  Wine can be had by the glass or the bottle and is very economical. This is one of the best ways to feel like a local. I found this to be a great alternative to a full meal.  To find other baccaro's in Venezia, the New York Times wrote a great article entitled "When in Venice, Eat Like a Venetian".
Munch Tip:  Try the olive tapenade with a glass of Prosecco to get the best combination of salty and sweet.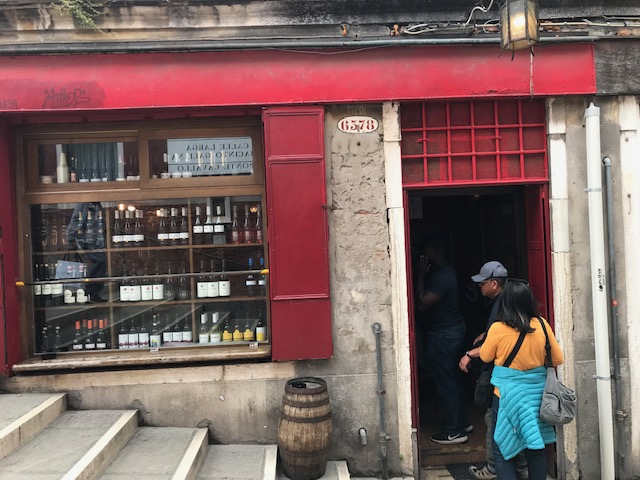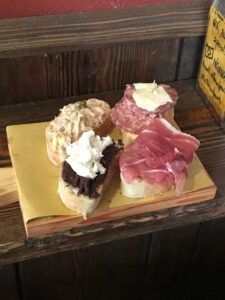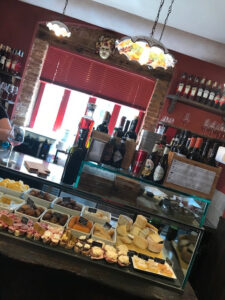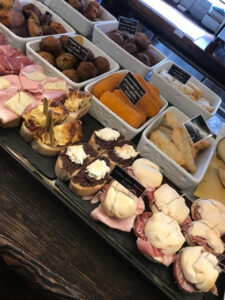 Trattoria Conca D'oro:  Good music and crowded tables drew me to this restaurant.  This restaurant is known for their pizza, but I went against the grain and ordered the gnocchi with speck and Gorgonzola.  Tasty, creamy and filling, this was the perfect meal for a rainy day. Gnocchi is one of my favorite dishes and I always order it whenever I see it on the menu.  A glass of lemon Fanta completed the meal and made it one of the highlights of my time in Venezia.
Munch Tip:  Sit outside to enjoy the atmosphere and the bustling streets of Venezia.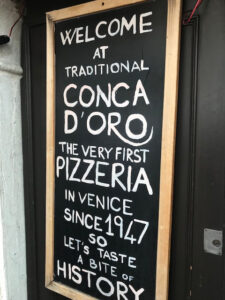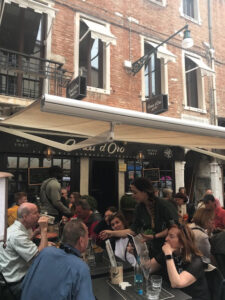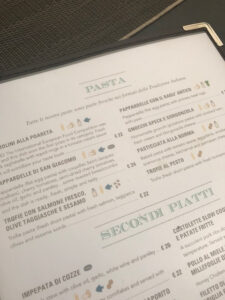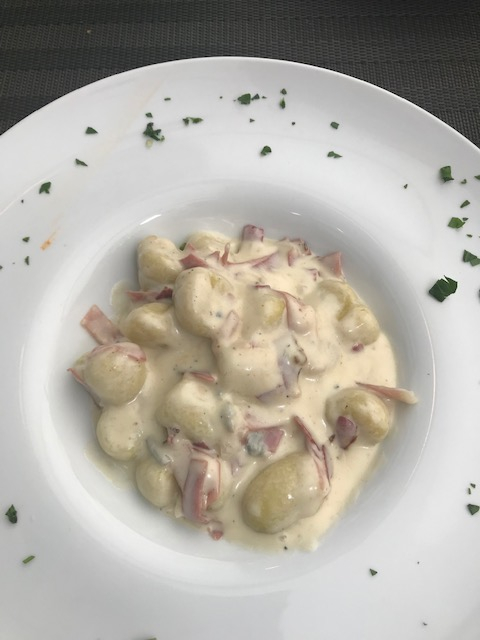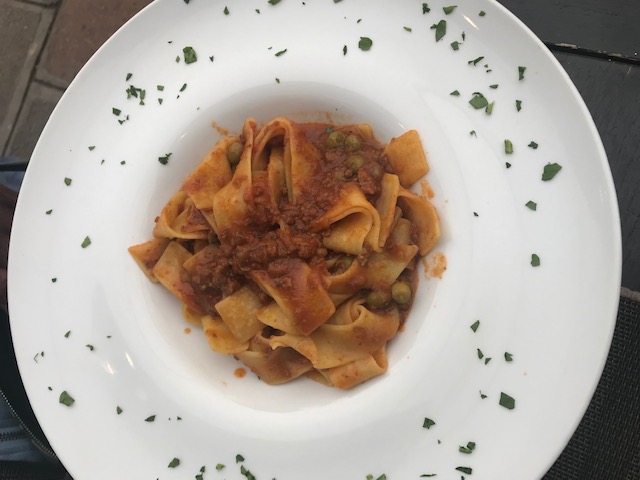 Cucina Venezia Orario Continato (Osteria Del Lovo):  To escape the rain we ran into this lively restaurant for dinner.  The wait staff was attentive and patient while we decided on our entrees.  I finally decided to order the frittura mista (mixed fried fish). My plate was filled with a seafood treasure of crawfish, calamari, clams and shrimp that was lightly fried and buttered.  I could have definitely eaten another plate. For dessert I tried the panna cotta, that was saturated with berries. This was my least favorite part of the meal because I am not a fan of any kind of berry.  The cappuccino I drank helped to wash down the taste of those awful berries. As a pleasant surprise our waiter gave us a shot of limoncello which helped me to digest the large meal I just consumed.
Munch Tip:  If your a small party make it a point to sit at the bar.  You can order half priced drinks and tapas as well as still get exceptional service.